R33 Renewal – Geriatric Oncology Research Infrastructure to Improve Clinical Care
We are thrilled to announce that we have officially been awarded the R33 Renewal (Geriatric Oncology Research Infrastructure to Improve Clinical Care) grant to continue our mission of joining geriatric oncology researchers across the nation in a collaborative effort to design and implement clinical trials to improve the care of older adults with cancer.
spacer
This achievement is a testament to the hard work and dedication of our investigators and researchers, as well as the support and collaboration of the entire CARG community. Throughout the past R21/R33 CARG Infrastructure Grant (CARinG) period (2018 to 2023) we were able to:
spacer
Exceed our overarching goal to increase high-impact research to reliably identify older patients at highest risk for adverse outcomes from cancer and its treatments. CARG has awarded 9 pilot grants with the objective to invest in aging and cancer investigators and to further amplify the mentoring aspect of the CARG/CARinG infrastructure.
Developed effective interventions to improve outcomes for vulnerable older adults and their caregivers. A total of 57 grants, including 41 successful applications, totaling $32.6 million in grant funding were submitted with the help of the CARG infrastructure.
Mentored the next generation of aging and cancer researchers by generating 86 mentor-mentee matches through the CARG Buddy Program.
Disseminated the findings widely to inform clinical practice. CARG contributed to 118 publications, especially in several high-impact journals, including the Lancet, JAMA Oncology, and Journal for Clinical Oncology.
Expanded our services to geriatric oncology researchers across the world. CARG has expanded from 150 to more than 630 members representing more than 31 countries.
Continued to grow and utilize the CARinG Cores (Analytics, Clinical Implementation, Communications, Health Services, Measures, and Supportive Care), CARinG SCOREboard, CARG Advocacy Committee, Junior CARG Board, and CARG Buddy Program Task Force. CARG has received, and addressed, more than 245 inquiries about utilizing these cores and groups.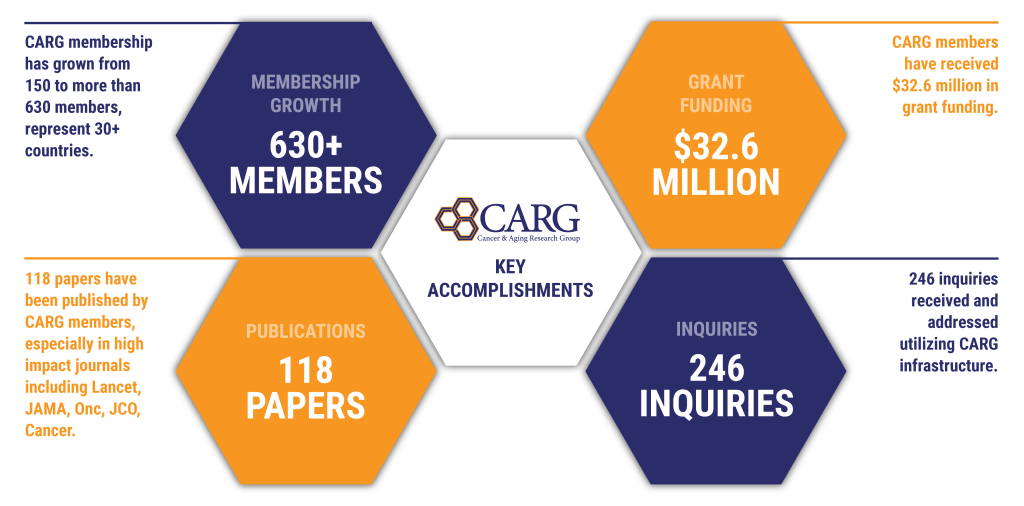 spacer
The R33 renewal will enable us to expand on these accomplishments and dive deeper into our mission. With this renewed funding, we are excited to embark on the next phase of our project. The R33 Renewal's overarching goal is to further expand CARG's national research infrastructure to facilitate high-priority research at the interface of aging and cancer, mentor the next generation of aging and cancer researchers, build greater capacity for engagement with older patients with cancer and their caregivers, and disseminate the findings to influence clinical care. We will accomplish this by:
spacer
Aim 1: Expand the reach of the infrastructure, through the use of the Cores, in order to facilitate the design and rigor of CARG's aging and cancer research
Aim 2: Facilitate high-priority, impactful research at the interface of aging and cancer through pilot awards and the conduct of large, competitive multi-site studies. The renewal will support innovative science at the interface of aging and cancer to address high priority evidence gaps in the field by funding collaborative pilot projects and conducting multi-site research utilizing the CARinG infrastructure.
Aim 3: Identify, cultivate, and mentor CARG investigators for leadership in aging and cancer research to develop the next generation of leaders. CARG focuses on nurturing and promoting a pipeline of investigators to conduct and disseminate research and to contribute to leadership of the field and the organization. Activities to support the goals of this aim focus on mentoring and leadership training.
Aim 4: Build greater capacity for engagement with older patients with cancer and caregivers through CARG's patient advocacy group SCOREboard to further grow patient-centered aging and cancer research. Participation of stakeholder partners (patients, family members, caregivers, and organizations that are representative of the population of interest) in clinical research makes research more meaningful and relevant, increases the generalizability and attractiveness of research findings to patients and clinicians, and aids in the translation of research findings into clinical practice.
Aim 5: Develop and disseminate geriatric oncology-specific content including best clinical practices, research findings, and opportunities for collaboration and advocacy through a communication strategy using multiple platforms and channels.
To propel research forward, additional infrastructure is needed to foster interdisciplinary, collaborative scholarship in aging and cancer, leverage data to answer important new questions, concentrate resources and expertise in high-priority areas, focus on the career development of investigators to grow the field, and widely disseminate this work. Ongoing R33 funding will provide the infrastructure to foster high-impact, innovative aging and cancer research to improve the lives of older adults with cancer.
spacer
We are immensely grateful to the NIH for recognizing the importance and potential of CARG. Their continued support in our work serves as a tremendous motivation for CARG to continue striving for excellence. None of this would be possible without the unwavering support of our CARG community. We extend our heartfelt gratitude to each and every one of you who has contributed to our mission. Your support and commitment have been invaluable and played a significant role in CARG's success. As we embark on this new phase of the R33, we invite you to stay connected and engaged.