Project Background
This five-year NIH/NIA R21/R33 (R21AG059206/R33AG059206) grant is important because older patients, especially those with significant age-associated vulnerabilities, remain vastly under-represented in research that sets the standards for the safety and efficacy of cancer treatments and supportive care interventions. The Cancer and Aging Research Group (CARG) has received support from a National Institute on Aging R21/R33 grant to develop a national infrastructure in the US for geriatric oncology research. The grant was awarded to our own CARG leaders, Drs. William Dale, Arti Hurria, and Supriya Mohile. With the loss of our dear colleague, we are committed to provide a national structure for continuing to build the field through research, mentorship, and dissemination. For the R33 phase, Drs. Dale and Mohile have asked Dr. Heidi Klepin to join the grant as MPI. This infrastructure will be developed through 6 dedicated Cores [Leadership, Clinical Implementation, Aging Measures, Supportive Care, Health Services, Analytics, and Communication] that will serve as a central resource of available expertise and propel high-impact, interdisciplinary, collaborative research in geriatric oncology.
SPECIFIC AIMS
Solidify the infrastructure and expertise, in the form of Cores, needed to facilitate the design of impactful aging and cancer research based on U13 priorities
Utilize the sustainable infrastructure to foster collaborations among a range of interdisciplinary investigators across the nation to accelerate innovative research in aging and cancer
Support and guide high-priority research projects at the interface of aging and cancer to lay the foundation for competitive multi-site studies
Identify, cultivate, and mentor investigators in aging and cancer research
Disseminate through effective communication strategies the research findings and data-sharing opportunities to the larger community
PRINCIPAL INVESTIGATORS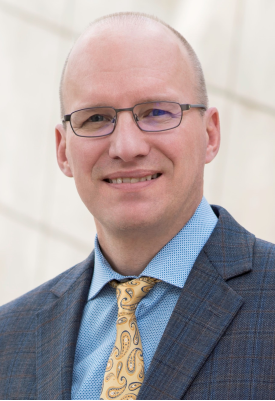 William Dale, MD, PhD
Principal Investigator
Arthur M. Coppola Family Chair in Supportive Care Medicine
City of Hope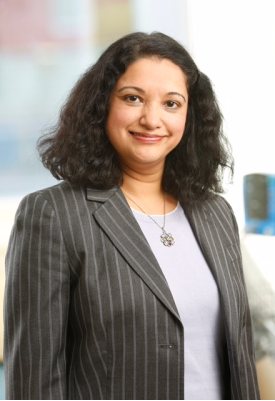 Supriya Mohile, MD, MS
Principal Investigator
Professor of Medicine and Surgery
James Wilmot Cancer Institute
University of Rochester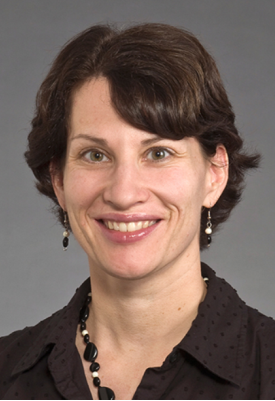 Heidi Klepin, MD, MS
Principal Investigator
Professor of Internal Medicine
Section on Hematology and Oncology
Wake Forest University Health Sciences
VISION
An integral part of our vision is to inspire, recruit, and mentor the most talented individuals, whether new or established, in the field of aging and cancer research, and to create a "culture of mentorship." Along with generating a pipeline of funded investigators, the field of geriatric oncology will be sustained through creating the next generation of leaders for the field. Given the growing need to coordinate and connect researchers in aging and cancer across institutions and networks scattered across the country, this proposal would allow for the cultivation of investigators poised to develop and foster new nationwide collaborations. These individuals would include promising junior faculty, previously unaffiliated senior investigators in related disciplines who can add value to the field, and isolated aging and cancer researchers who need shared resources to succeed. In bringing them together, a robust and comprehensive inventory of aging and cancer expertise will be created.
CARinG CORE STRUCTURE
The Cores would support the research essential to advance the field. Other innovative aspects include dedicated mentoring for investigators wherever they currently work, the sharing of existing data for secondary analyses to serve as preliminary data, and supportive mechanisms for ongoing and iterative feedback on aging and cancer research from experts.
If you are interested in consultative services within a Core, please complete the Core Inquiry Form
Click on each Core for more information: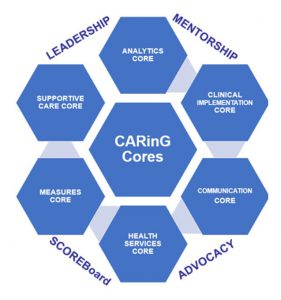 PUBLICATIONS
Anand M, Magnuson A, Patil A, Nuristani H, Plumb S, Obrecht S, Katheria V, Mohile S, Dale W. Developing sustainable national infrastructure supporting high-impact research to improve the care of older adults with cancer: A Delphi investigation of geriatric oncology experts. J Geriatr Oncol. 2019 Oct 21;. doi:10.1016/j.jgo.2019.09.007. [Epub ahead of print] PubMed PMID: 31648952. Link
Elias R, Loh KP, Targia V, Whitehead M, Canin B, Jatoi A, Loscalzo M, Mohile S. Behavioral, psychological, and supportive care interventions in geriatric oncology: The cancer and aging group infrastructure core. J Geriatr Oncol. 2019;. doi: 10.1016/j.jgo.2019.07.019. [Epub ahead of print] Link
Koll TT, Magnuson A, Dale W, LaBarge MA, Leach CR, Mohile S, Muss H, Sedenquist M, Klepin HD. Developing a clinical and biological measures of aging core: Cancer and aging research group infrastructure. J Geriatr Oncol. 2019 Sep 16;. doi: 10.1016/j.jgo.2019.09.006. [Epub ahead of print] PubMed PMID: 31537478. Link
Rosko AE, Steer C, Chien LC, Zittel J, Artz A, Chow S, Plotkin E, Dale W, Elias R, Chapman AE. The Cancer and Aging Research Group (CARG) infrastructure: The clinical implementation core. J Geriatr Oncol. 2021. Link
Sedrak MS, Li D, Walter LC, Mustian K, High KP, Canin B, Mohile SG, Dale W, Sun CL. Cores for geriatric oncology infrastructure in the cancer and aging research group: Biostatistics, epidemiology, and research design (the analytics core). J Geriatr Oncol. 2019 Jul 17;. doi: 10.1016/j.jgo.2019.07.013. [Epub ahead of print] PubMed PMID: 31326391; NIHMSID:NIHMS1535262. Link
Subbiah IM, Lundebjerg N, Appleby J, Wallach G, Beilenson J, Dale W. Development of a strategic plan for the dissemination and communication of aging research through the Cancer and Aging Research Group (CARG) infrastructure grant. J Geriatr Oncol. 2019 Jul 25;. doi: 10.1016/j.jgo.2019.07.008. [Epub ahead of print] PubMed PMID: 31353236; NIHMSID:NIHMS1536469. Link
Wong ML, Lichtman SM, Morrow GR, Simmons J, Hargraves T, Gross CP, Lund JL, Lowenstein LM, Walter LC, McDermott CL, Mohile SG, Cohen HJ. Geriatric oncology health services research: Cancer and Aging Research Group Infrastructure Core. J Geriatr Oncol. 2019 Jul 17;. doi: 10.1016/j.jgo.2019.07.012. [Epub ahead of print] PubMed PMID: 31326392; NIHMSID:NIHMS1535054. Link