New 2023 ASCO Geriatric Oncology Updated Guidelines: Practical Geriatric Assessment and Other Resources
The American Society of Clinical Oncology (ASCO) recently released the Practical Assessment and Management of Vulnerabilities in Older Patients Receiving Systemic Cancer Therapy: ASCO Guideline Update published in the Journal of Clinical Oncology. A companion Q&A article has also been published in the JCO Oncology Practice which highlights key questions and answers regarding the updated guidelines and geriatric assessment.
One of the key recommendations within the 2018 ASCO Geriatric Oncology Guidelines was to complete a geriatric assessment to evaluate vulnerabilities associated with older adults undergoing cancer treatment. Despite significant research that demonstrates (GA) improves clinical outcomes in older patients with cancer, they are still not routinely used in clinical practice. To address this barrier, an ASCO expert panel, which included leaders and members of the Cancer and Aging Research Group, has updated the guidelines and launched a Practical Geriatric Assessment (PGA) tool.
Dr. William Dale explains, "The Practical Geriatric Assessment or PGA is a concise and complete tool that captures the essence for assessing older adults with cancer in any setting. It was designed with input from experts from ASCO and the Cancer & Aging Research Group (CARG).  It meets the needs for assessment of older adults with cancer as outlined in the newly-available guidelines for cancer and aging from ASCO. We encourage its use for cancer providers across the country."
Based on two key practice-changing studies GAIN-S and GAP70+ the PGA tool was designed to address the barriers to implementing GA in clinical practice, making it simpler for oncologists to assess high-priority, age-related issues associated with older adults with cancer.
Here are additional information and resources related to the new guidelines, including easy access to the full publications, instructional videos related to the PGA, and the latest interviews and articles related to these new guidelines.
Updated 2023 ASCO Geriatric Oncology Guidelines: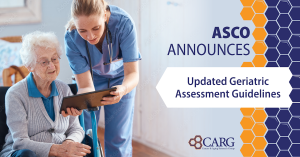 Patient-Specific Resources:
Media Articles:
Podcasts:
How to do a Geriatric Assesement
What to do with the results of a Geriatric Assessment
For any questions please email us at: caring@coh.org