In memory of our founder and mentor,
Arti Hurria, MD, FASCO
September 7, 1970 to November 7, 2018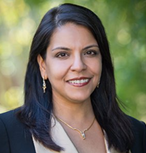 Dr. Arti Hurria was a geriatrician and oncologist who devoted her clinical and research career to improving the care of older adults with cancer. She received her medical degree from Northwestern Medical School; she completed her internship at Beth Israel Medical Center, her residency at Beth Israel Deaconess Medical Center, and her fellowships in Geriatrics and Oncology at the Harvard Geriatrics Fellowship Program and Memorial Sloan Kettering Cancer Center, respectively. In 2006, she joined City of Hope as an Assistant Professor and Director of the Cancer and Aging Research Program. Over the course of a decade, she expanded her roles at City of Hope to serve as the Vice Provost of Clinical Faculty, Professor and Director of the Center on Cancer and Aging, and Co-Lead of the Cancer Control and Population Sciences Program.
Under Dr. Hurria's leadership, the Center for Cancer and Aging developed and executed over 30 geriatric oncology protocols, enrolling over 4500 participants on studies focused on cancer and aging. Dr. Hurria's contributions to the field of geriatric oncology are significant and difficult to quantify, especially when factoring in how generous she was with her mentorship and advice to investigators within and outside of the field. She served as principal investigator on over 15 federal (NCI and NIA) and philanthropic grants (the Hartford Foundation, Breast Cancer Research Foundation, UniHealth Foundation, and Hearst Foundation) over the course of her career. Dr. Hurria led national and international efforts to improve the care of older adults with cancer, which was one of her life's passions. She was the Chair and Founder of the Cancer and Aging Research Group, Co-Chair for the Alliance Cancer in the Elderly Committee, Past President of the International Society of Geriatric Oncology, and Past Chair of the National Comprehensive Cancer Network Older Adult Oncology Committee. She served on the Institute of Medicine, Committee on "Improving the Quality of Cancer Care: Addressing the Challenges in an Aging Population." Dr. Hurria was also the founding Editor-in-Chief for the Journal of Geriatric Oncology, the first journal dedicated to the field of cancer and aging. She was the recipient of the B.J. Kennedy Award from the American Society of Clinical Oncology, which recognizes scientific excellence in geriatric oncology. Dr. Hurria was elected to the Board of Directors for the American Society of Clinical Oncology in 2016. In 2017, Dr. Hurria was the recipient of an endowed chair in geriatric oncology (The George Tsai Geriatric Oncology Chair) and the recipient of the International Society of Geriatric Oncology Paul Calabresi Award. She was also the recipient of the Paul B. Beeson Career Development Award in Aging (K23) and the Frederick Stein Memorial Award for Humanism in Medicine.
We tragically lost Dr. Hurria on November 7, 2018. She was often quoted in presentations stating that her dream was, "One day, all older adults with cancer will receive personalized tailored care, utilizing evidence-based medicine with a multidisciplinary approach." The cancer and aging research community that she built (our CARG family) is committed to continuing to fulfill the dream and expanding on her living legacy in geriatric oncology (fondly known as #DrHurriasLight).
Below are links to other tributes videos and articles in honor of Dr. Hurria.
Celebration of Life Event Hosted at City of Hope in March 2019:




"Arti Hurria, M.D.: A Legacy of Love and Service". The event included leaders in the field of oncology and geriatric oncology, mentees, patients, and her family.


Part 1
Part 2
The Journal of Geriatric Oncology launched a Special Issue to Honor and Remember Dr. Arti Hurria. The issue contains close to 50 tributes, reviews, perspectives, and research manuscripts that highlight her legacy in geriatric oncology.
The American Society of Clinical Oncology (ASCO) and ASCO's Conquer Cancer Foundation have established a fund in Dr. Hurria's name to endow a Young Investigator Award in geriatric oncology to celebrate her life and her passion for caring for older patients with cancer. The award was created to ensure the next generation of researchers with an interest in older patient issues have the resources needed to improve care.
The American Geriatric Society (AGS) and the AGS Health established the Arti Hurria Memorial Award for Emerging Investigators in Internal Medicine Focused on the Care of Older Adults. The award recognizes the accomplishments of junior and mid-career clinician-investigators in general internal medicine and its specialties.