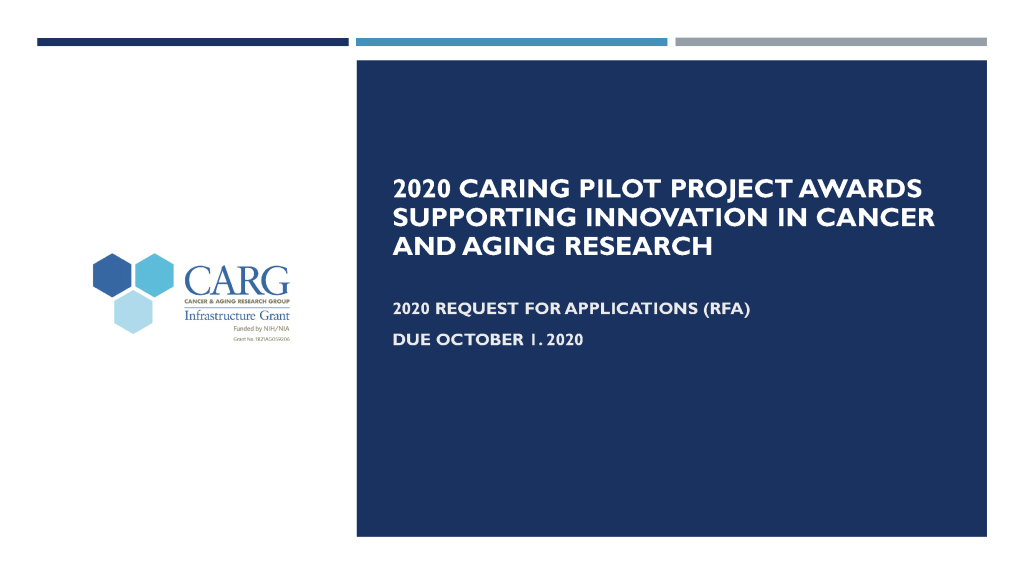 The Cancer and Aging Research Group (CARG) Infrastructure Grant is requesting applications for two pilot projects in the field of cancer and aging research. The goal is for this pilot funding to provide support for investigator pilot projects that can lead to externally funded awards.
Applications must include plans/strategies for how the study will:
1) Address an issue concerning cancer and aging
2) Support research teams focused on cancer and aging research
3) Lead to publications and extramural funding
Funding Parameters:
This RFA is for two 12-month pilot awards for up to $20,000 each (which includes indirect costs). We anticipate institutions to reduce indirect costs as part of their institutional commitment. Please provide information on indirect cost rate as part of the budget justification. Pilot awards will be effective January 2021. Proposals should reflect the scope of the work with budget request up to $20,000. A separate NIH-styled budget justification is required for each institution with line items reflecting actual costs. Funds can be requested for non-faculty personnel (with strong justification for their anticipated time spent on the project), supplies, and CARING Cores. Funds cannot be used for faculty salaries, travel, books or journal subscriptions. Funds must be spent 1 year after receipt of funds.
Deadline for submission: October 1, 2020
In place of a Letter of Intent (LOI), please complete the brief survey of intent with your interest to apply by Tuesday, August 25th. Here is the Survey Link
Please see the following attachments related to this announcement:
2020_CARinG_Pilot_Grant_RFA_Announcement
2020_CARinG_Pilot_Grant_Request_for_Application_RFA
2020_CARinG_Pilot_Application_Title_Page_
NIH/NIA R21/R33 CARinG Pilot Grants
Nine awards will be funded during the grant period
The goal is for this internal pilot funding to serve as a foundation/model upon which future investigators will design and initiate research projects leading to externally funded awards and foster research collaborations across cancer centers.
Each application must be accompanied by a letter of support from the institution of the investigator, and must discuss explicitly how CARG infrastructure resources (e.g. data, Core support) are needed to facilitate the next steps for the research
Pilot Grant 1
Title: Development of a Personalized Discussion Priorization Tool for Older Adults Considering Adjuvant Chemotherapy for Breast Cancer
Co-PIs: Allison Magnuson, DO and Mina Sedrak, MD, MS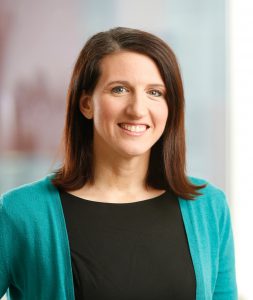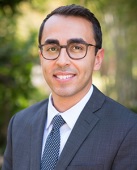 Grant Period: September 1. 2019 – August 31, 2020
Overall Objective: Develop and test a technology-mediated DPT, which integrates personalized information on risk factors for adjuvant chemotherapy-related toxicity in older women with breast cancer
Specific Aims
Aim 1: Conduct a secondary analysis of patients enrolled on NCT01472094 to determine the association between clinical factors and reduced RDI of a prescribed chemotherapy regimen.
Aim 2: Adapt a DPT to include personalized information regarding risk of chemotherapy toxicity and risk of reduced RDI, and evaluate the usability of the DPT in ten older adults considering adjuvant chemotherapy for breast cancer.