Geriatric oncology was again, front and center at this year's American Society for Clinical Oncology (ASCO)'s Annual Conference, and in no small part due to CARG's marked presence at the conference. The conference took place over five action-packed days across June 2-6, in Chicago, IL, at the McCormick Place Convention Center and online. With CARG members doing keynote presentations, connecting during the event, and giving over a dozen presentations, the Cancer and Aging Research Group certainly made a splash at ASCO. Here are a few highlights.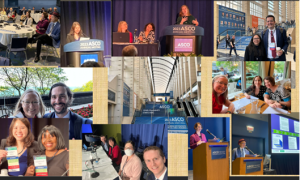 Awards and Nominations
Winner of the 2023 B.J. Kennedy Geriatric Oncology Award Winner and CARG member Dr. Hans Wildiers MD, PhD was a Keynote Speaker at ASCO 2023 Meeting.  Dr. Wildiers is a medical oncologist dedicated to breast cancer research. He has served as a staff member in the Department of Medical Oncology at the University Hospital Leuven, Belgium, since 2004. Since 2015, he has been the coordinator of the Leuven Multidisciplinary Breast Center. He has also been the coordinator of several academic studies in the field of breast cancer and geriatric oncology and is the author of more than 350 peer-reviewed papers. He has been active on the Board of the International Society of Geriatric Oncology for many years and served as the organization's president from 2018 to 2020. From 2009 to 2015, he chaired the Cancer in the Elderly Task Force of the European Organization for Research and Treatment of Cancer.  Read more about Dr. Wildiers here: Link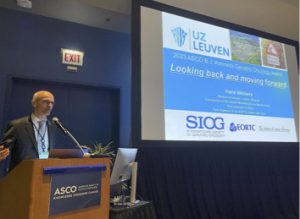 Presentations:
About 18 members of CARG covering topics related to Shared decision-making for older adults with cancer using available treatment tools, Geriatric Oncology Assessment to Implementation to developing sustainable geriatric oncology practices, and everything in between, see highlights below!
Social Events and Meetups